From Support To Independence - Nurturing Minds & Hearts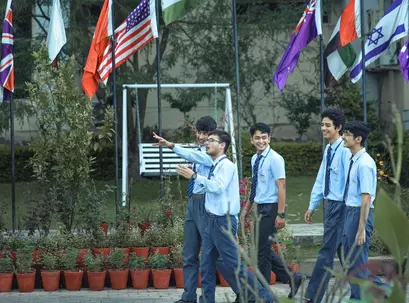 At The TonsBridge School, we prioritize pastoral excellence through a robust House system that fosters strong bonds among students, staff, and parents. Each boy becomes an integral part of a smaller community within the School, ensuring a sense of security and belonging. Our dedicated Housemasters, supported by tutor teams and Matrons, provide individualized care and closely monitor each student's progress.
Our commitment to pastoral care extends beyond the House system, encompassing a range of support systems and dedicated professionals, including a 24-hour Medical Centre.
School Counsellor, and student support networks like the Anti-Bullying Council. We empower students through councils, ensuring their voices are heard on various issues.
As your ward transitions from childhood to adulthood, we recognize the trust you place in us. Our multi-layered approach to pastoral care, backed by experienced professionals, ensures that every boy can confidently and joyfully embrace life at The TonsBridge School.
Dormitories
Our living facilities are meticulously designed to create a homely atmosphere for our students. Each boarding house features comfortable and generously sized dormitories, ensuring every child enjoys a well-ventilated and airy environment, with personalized windows for added comfort along with attached washrooms. The boarding houses are guarded exclusively by professional security guards.
The boys of the Junior Wing are accommodated in dormitories in groups of eight, whereas the boys of the Senior School stay together in groups of four per dormitory. Each dormitory has a dedicated Study Area for every child.
Health & Medical Care


The Medical Centre in the School campus has a tie-up with Max Healthcare & Synergy Institute of Medical Sciences.
A Residential Medical Officer assisted by two well-trained and experienced nurses from Max Super Specialty Hospital and Synergy Hospital. Take care of the Medical Centre which is within the hostel area and is a warm and caring place for the children.
The Medical Centre is equipped with:
Medical Bills are incorporated into your Imprest Fees.
The nurses and the GDA are available round the clock for best assistance and medical aid. Eye, ENT, Dental and Skin check-ups are organized periodically. A routine Cardiac screening is done for all boys at least once a year. Complete check-ups are also carried out each quarter to ensure that our children are always in the best of health. Routine health concerns are normally attended to during specified clinic hours. After hour calls are reserved for significant medical issues. In case of emergencies, a well-equipped ambulance is available for immediate evacuation to the nearby Max Super Speciality Hospital or Synergy Hospital.
Pupils are discouraged from keeping medication in the dorm for intermittent self-administration in order to minimize any possibility of misuse by the student or others.
Emotional Well Being 
Emotional wellbeing inspires self-care, relaxation, stress reduction and the development of inner strength. We help our students to learn and grow from their life experiences, encourage sound decision making and educate them to have zero tolerance towards bullying. Throughout their stay in the School, we inculcate in them positive attributes in life such as, resilience, owning responsibility, compassion, mindfulness and gratitude.
Food & Nutrition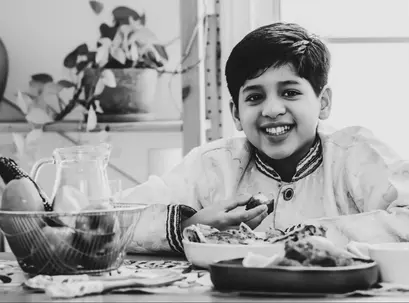 A nutritious diet has a significant effect on children's behaviour, mood and concentration. Healthy eating is promoted as part of a normal daily diet and lifestyle. Food matters, and we take it seriously.The School serves pure vegetarian meals using cereals, vegetables and milk from its own organic farm and dairy.
To cater to different palates, the following cuisines form an integral part of our weekly menu:
Indian
Thai
Italian
Chinese
Continental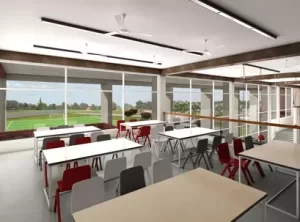 Under expert guidance, our kitchen team maintains top-notch food hygiene and focuses on fresh/organic, vegetarian meals. We prioritize raw ingredients, limiting the use of frozen items. A qualified nutritionist ensures a balanced diet, while feedback from the Mess Committee helps us adapt to popular choices, offering a wholesome dining experience.
A Day In Paradise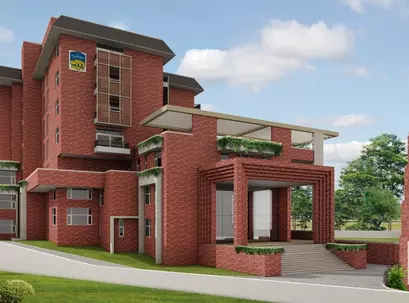 The School bursts into life at around 5:30 AM when boarders wake up for their daily grinding schedule. Fuelled with a good dose of nutritious breakfast, the students now get ready to face the day ahead with vigor and concentration. The day unfolds in quick mode with regular lessons, lunch followed by activities, sports, and preparatory classes, and comes to a close with a very rewarding dinner. Once back on the bed, students fondly recollect the day gone by and mentally plan themselves for the next morning. And then sleep takes hold. 9:30 p.m. is the official time for the Lights Off.
Residential Programme
Where Indian values, healthy living, and nurturing environments meet to shape well-rounded individuals.
Welcome to The TonsBridge Residential Programme, where we believe in fostering more than just academic growth, we nurture character, values, and a sense of well-being. Our holistic approach to education extends beyond the classroom, ensuring that every aspect of a student's life is enriched.
At The TonsBridge, we understand the significance of the formative years in your child's life. Our Residential Programme is designed to ensure that your child thrives academically, emotionally and socially, making their time with us truly enriching and unforgettable.
Your Child'sHome Away From Home
Our dormitories provide a secure, comfortable haven, ensuring students feel at ease.
Healthy Living, Naturally
Our focus on organic, homegrown vegetables nurtures students' bodies, fostering holistic well-being. We prioritize healthy eating, ensuring that every meal is not only delicious but also nourishing.
Indian Values In Our Culture
We embrace India's rich heritage, instilling values that shape compassionate, culturally aware individuals.
World-Class Dining Facility
Our dining infrastructure is a testament to our commitment to students' well-being. Our spacious and well-lit dining hall provides a welcoming environment for students to enjoy nutritious meals.
Daily Schedule
A DAY AT THE TONS BRIDGE SCHOOL
| | |
| --- | --- |
| 5:30 A.M. | Rouser |
| 5:30 A.M. – 5:45 A.M. | Freshen-Up & Brush |
| 5:45 A.M. – 6:15 A.M. | Running / Yoga / Meditation / P.T. / Drill |
| 6:15 A.M. – 6:50 A.M. | Bath & Change |
| 6:50 A.M. – 7:00 A.M. | Uniform Inspection |
| 7:00 A.M. – 7:30 A.M. | Breakfast / Milk with Dry Fruits |
| 7:30 A.M. –  8:00 A.M. | Assembly |
| 8:00 A.M. – 11:15 A.M. | Classes |
| 11:15 A.M. – 11:35 A.M. | Morning Snacks / Canteen |
| 11:35 A.M. – 1:45 P.M. | Classes |
| 1:45 P.M. – 2:15 P.M. | Lunch / Canteen |
| 2:15 P.M. – 3:15 P.M. | Change & Rest |
| 3:15 P.M. – 4:15 P.M. | Remedial / H.W. in Classrooms |
| 4:15 P.M. – 4:30 P.M. | Evening Snacks |
| 4:30 P.M. – 6:00 P.M. | Games / Sports / Activities |
| 6:00 P.M. – 6:30 P.M. | Bath & Change |
| 6:30 P.M. – 8:00 P.M. | Prep in Classrooms |
| 8:00 P.M. – 8:30 P.M. | Dinner |
| 8:30 P.M. – 9:20 P.M. | Self Study / Entertainment in Dorms |
| 9:20 P.M. – 9:30 P.M. | Prepare Bags & Dress for Next Day |
| 9:30 P.M. | Lights off |