In the heart of the picturesque state of Uttarakhand, lies a gem of an educational institution – The TonsBridge School.Having scored a place among the top 5 CBSE schools in Uttarakhand,  this institution has been an epitome of excellence in education for many years. This blog shall encompass all the parameters that makeTonsBridge School a shining star in the world of education. Let's embark on a journey to discover its world-class facilities, innovative curriculum, and stellar academic performance.
Facilities That Inspire Excellence
The TonsBridge School understands the importance of providing an environment that nurtures holistic development. Its state-of-the-art campus is designed to inspire excellence in every student. From the moment you step through the gates, you're greeted by lush green lawns and a sense of tranquillity that sets the stage for focused learning.
Modern Classrooms: The TonsBridge School boasts spacious, well-equipped classrooms that are designed to facilitate interactive learning. These spaces are carefully designed to create a conducive atmosphere for students to absorb knowledge.
Library and Resource Centre: A well-stocked library is the heart of any educational institution. TonsBridge School's library is no exception. It houses an extensive collection of books, journals, and digital resources, ensuring that students have access to a wealth of knowledge.
Science and Computer Labs: The school is equipped with state-of-the-art science and computer labs. These labs provide students with hands-on experience, fostering a love for practical learning and scientific inquiry.
Sports and Fitness Facilities: Physical fitness is an integral part of overall development. The school offers top-notch sports facilities, including a sprawling playground, indoor sports complex, and expert coaching in various disciplines.
Art and Cultural Spaces: The TonsBridge School believes in nurturing creativity and talent. The school's art and cultural spaces provide a platform for students to explore their artistic inclinations.
Innovative Curriculum
The TonsBridge School prides itself on its innovative curriculum that goes beyond textbooks and traditional teaching methods. It aims to prepare students not just for exams but for life.
CBSE Affiliation: As one of the best CBSE schools in Dehradun, The  TonsBridge School follows the Central Board of Secondary Education (CBSE) curriculum, ensuring a strong foundation in core subjects.
Holistic Development: The curriculum is designed to foster holistic development. It includes a balanced mix of academics, extracurricular activities, and personality development programs.
Experiential Learning: The TonsBridge School believes in learning by doing. Field trips, hands-on experiments, and interactive sessions are integrated into the curriculum to make learning engaging and practical.
Technology Integration: In the digital age, technology plays a vital role in education. The school incorporates the latest educational technology to enhance the learning experience.
Academic Success
The true measure of any school's worth is the academic performance of its students. The TonsBridge School  has consistently raised the bar in this regard.
Dedicated Faculty: The TonsBridge is best known for its exceptionally dedicated and passionate faculty who is committed toquality educationand focus on concept-based learning.
Personalized Attention: The TonsBridge School believes in the power of individualized attention. The low student-teacher ratio ensures that each student receives the guidance they need.
Examination Success: TheTonsBridge School has a commendable track record of producing CBSE examination toppers. Its students consistently perform well in board exams, setting new benchmarks.
Extracurricular Activities and Clubs
Diverse Clubs: The TonsBridge School encourages students to explore their interests beyond academics. It offers a wide range of clubs, including debate, photography, robotics, and environmental clubs. These clubs not only provide opportunities for skill development but also help students make friends with similar passions.
Sports Excellence: The school takes pride in its sports programs. It has produced athletes who have excelled at regional and national levels. Whether it's cricket, basketball, or athletics, The TonsBridge School has a tradition of nurturing sports talent.
Community Engagement and Social Responsibility
Social Initiatives: The TonsBridge School instills a sense of social responsibility in its students. Through various outreach programs, students actively engage with the community, participate in charity drives, and contribute to social causes. This fosters empathy and a sense of giving back.
Environmentally Conscious: The school is committed to environmental sustainability. It has initiatives like rainwater harvesting, waste management, and eco-friendly practices to raise eco-conscious citizens.
Career Guidance and Counselling
Career Development: The TonsBridge School understands the importance of career guidance. It has a dedicated career counselling center that helps students make informed choices about their future academic and professional paths.
Alumni Network: The school's alumni network is a valuable resource for current students. Alumni often return to share their experiences and provide insights into various career paths.
Global Exposure
International Exchange Programs: The TonsBridge School believes in broadening horizons. It offers international exchange programmes that give students an experience of the different cultures, languages, and educational systems that help students enhance their knowledge and global perspective.
Language Proficiency: The school places a strong emphasis on language proficiency. It offers foreign language courses, enabling students to become proficient in languages such as French, German, and Spanish.
Parent Involvement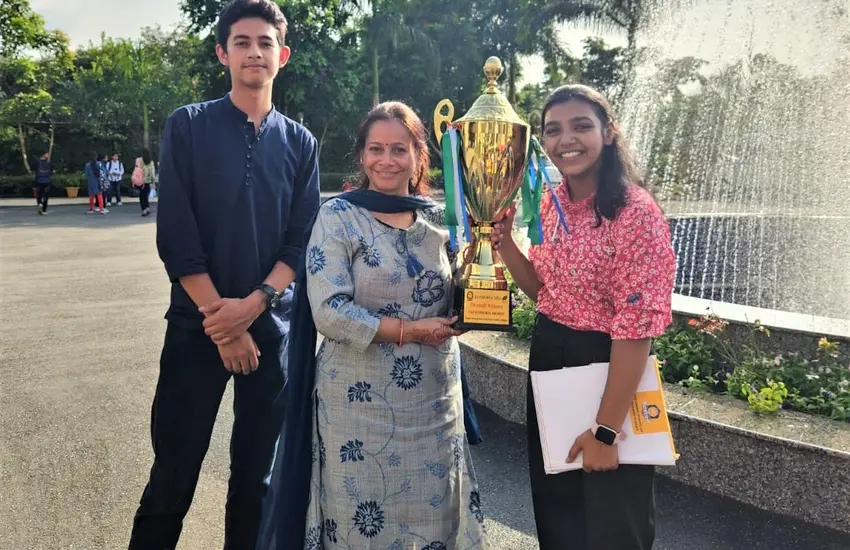 Periodic Interaction of Parents and Teachers:  The TonsBridge School values the partnership between parents and teachers. The school makes sure that parents are actively involved in their child's educational journey by incorporating regular parent-teacher meetings and discussion hours.
Parent Workshops: The school organizes workshops for parents on various topics, from child psychology to study techniques. This helps parents play a more effective role in their child's development.
Incorporating these additional points not only highlights the comprehensive nature of  The TonsBridge School but also underscores its commitment to providing a well-rounded education that goes beyond academics. It truly stands as a model of educational excellence in Uttarakhand.
In conclusion,The  TonsBridge School stands as a testament to educational excellence. It's not just one of the top 5 CBSE schools in Uttarakhand, but also one of the best schools in Dehradun. Come, be a part of this incredible journey towards excellence in education!