FROM SUPPORT TO INDEPENDENCE
Nurturing Minds & Hearts
At The TonsBridge School, we prioritize pastoral excellence through a robust House system that fosters strong bonds among students, staff, and parents. Each Student becomes an integral part of a smaller community within the School, ensuring a sense of security and belonging. Our dedicated Housemasters, supported by tutor teams and Matrons, provide individualized care and closely monitor each student's progress.
Our commitment to pastoral care extends beyond the House system, encompassing a range of support systems and dedicated professionals, including a 24-hour Medical Centre.
School Counsellor, and student support networks like the Anti-Bullying Council. We empower students through councils, ensuring their voices are heard on various issues.
As your ward transitions from childhood to adulthood, we recognize the trust you place in us. Our multi-layered approach to pastoral care, backed by experienced professionals, ensures that every boy can confidently and joyfully embrace life at The TonsBridge School.
The School bursts into life at around 5:30 AM when boarders wake up for their daily grinding schedule. Fuelled with a good dose of nutritious breakfast, the students now get ready to face the day ahead with vigor and concentration. The day unfolds in quick mode with regular lessons, lunch followed by activities, sports, and preparatory classes, and comes to a close with a very rewarding dinner. Once back on the bed, students fondly recollect the day gone by and mentally plan themselves for the next morning. And then sleep takes hold. 9:30 p.m. is the official time for the Lights Off.
The TonsBridge Boarding School
Residential Programme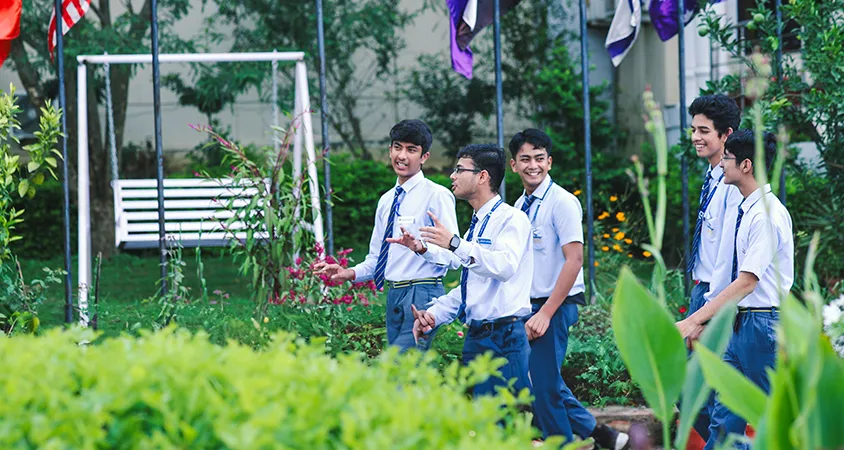 Where Indian values, healthy living, and nurturing environments meet to shape well-rounded individuals.
Welcome to The TonsBridge Residential Programme, where we believe in fostering more than just academic growth, we nurture character, values, and a sense of well-being. Our holistic approach to education extends beyond the classroom, ensuring that every aspect of a student's life is enriched.
At The TonsBridge, we understand the significance of the formative years in your child's life. Our Residential Programme is designed to ensure that your child thrives academically, emotionally and socially, making their time with us truly enriching and unforgettable.