In the serene valley of Dehradun, where education reigns supreme, there's a gem that shines bright. The TonsBridge School ranked among the top 10 CBSE schools in Dehradun, this institution has become synonymous with excellence and innovation. Come with us on this journey and find out what makes The TonsBridge School stand out and why it's a prime choice for parents seeking the best for their children in this beautiful city.
A Legacy of Excellence
The TonsBridge School boasts a rich heritage of academic prowess. Established decades ago, it has consistently ranked among the top schools in Dehradun. This legacy is a testament to its unwavering commitment to nurturing young minds.
Academic Brilliance
As one of the premier CBSE affiliated schools in Dehradun,  The TonsBridge School leaves no stone unturned in providing a world-class education. With a dedicated faculty, state-of-the-art facilities, and a holistic approach to learning, students here consistently excel in their academic pursuits.
Beyond the Classroom
Education at The TonsBridge school goes beyond textbooks. The school encourages students to explore their interests through a wide range of extracurricular activities, from sports to arts, ensuring their all-round development.
Global Exposure
The TonsBridge School believes in broadening horizons. It fosters global perspectives through international exchange programs and collaborations, allowing students to experience diverse cultures and gain a global outlook.
Innovative Teaching Methods
The TonsBridge School educators employ cutting-edge teaching techniques to ensure that students not only understand the subjects but also develop critical thinking skills and a love for learning.
Infrastructure that Inspires
The school campus is a marvel in itself, with state-of-the-art infrastructure that provides a conducive environment for learning. From well-equipped classrooms to libraries and labs, every aspect supports students' growth.
Warm and Welcoming Environment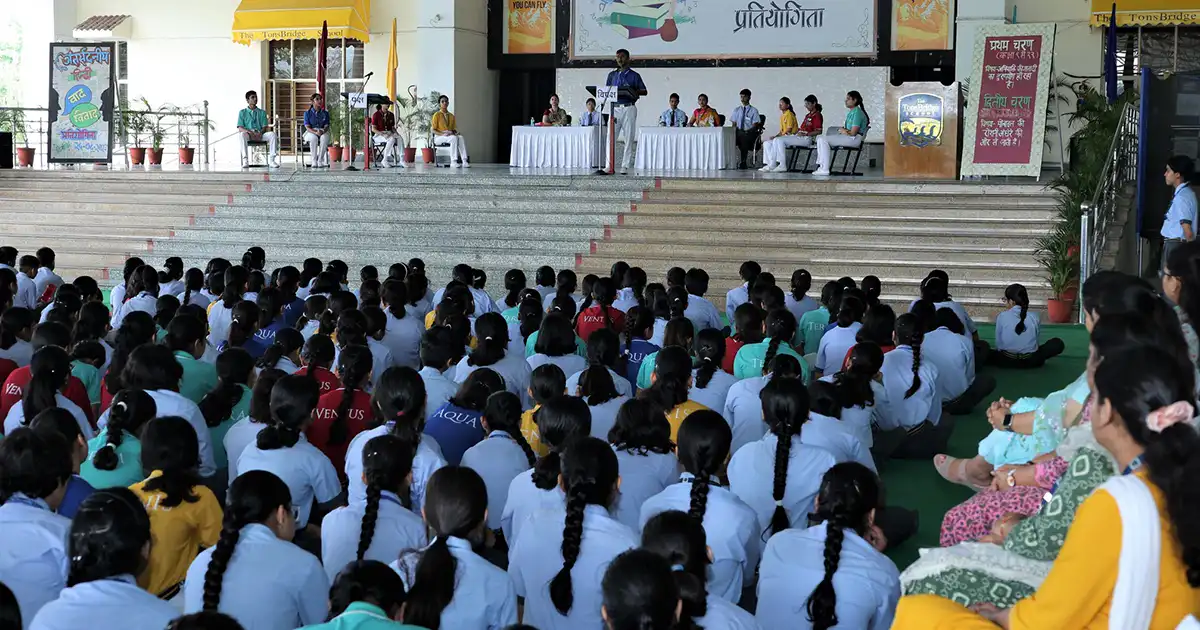 Diversity is not just welcomed but celebrated at  The TonsBridge School. The institution ensures an inclusive environment where every student, regardless of their background, feels valued and respected, setting it apart as one of the top schools in Dehradun.
Mentorship and Guidance
At The TonsBridge School, we recognize that holistic development is paramount to nurturing critical thinkers. Our comprehensive extracurricular programs, spanning the realms of arts, sports, and a myriad of clubs, encourage students to explore diverse interests, nurturing creativity and adaptability.
Former student testimonial: "The TonsBridge School taught me that critical thinking isn't confined to academics alone; it's a mind-set that drives innovative solutions to life's myriad challenges." – Maya, Class of 2020
Creativity, an Essential Tool
The TonsBridge School acknowledges the significance of nurturing creativity and critical thinking. The school encourages students to explore their artistic talents, innovate, and express their ideas. This makes it stand out among the top CBSE schools in Dehradun.
Emphasis on Values
In addition to academics,  The TonsBridge School instills strong values in its students. They are taught the importance of integrity, responsibility, and compassion, making them responsible citizens of the world.
All-round Growth
The school's focus on extracurricular activities, including sports, arts, and community service, ensures that students develop into well-rounded individuals ready to face the world.
Parent-Teacher Collaboration
The TonsBridge School recognizes that a child's education is a partnership between parents and teachers. Regular interactions and collaborative efforts ensure that the child's journey is seamless and fruitful.
In conclusion, The TonsBridge School stands tall as one of the top 10 CBSE schools in Dehradun. Its commitment to academic excellence, holistic growth, and values-based education has made it a beacon of hope for parents seeking the best for their children. If you aspire for an institution where excellence is not just a word but a way of life,  The TonsBridge School is the answer. Join this exceptional journey, where learning knows no bounds.
With The TonsBridge School, you're not just choosing a school; you're choosing excellence, innovation, and a brighter future for your child. Make the right choice and witness your child's potential being realized in one of the top schools in Dehradun.